Have you ever used the word pagan to describe a non-Christian culture with unusual practices or exotic beliefs?
Did you ever wonder where our English word pagan might have initially originated?
What locale of the world might this word originally describe?
Between the 11th and 13th centuries, over 10,000 temples and pagodas were constructed in a single central valley of ancient Burma. Over 2200 of these structures still survive in the country now known as Myanmar.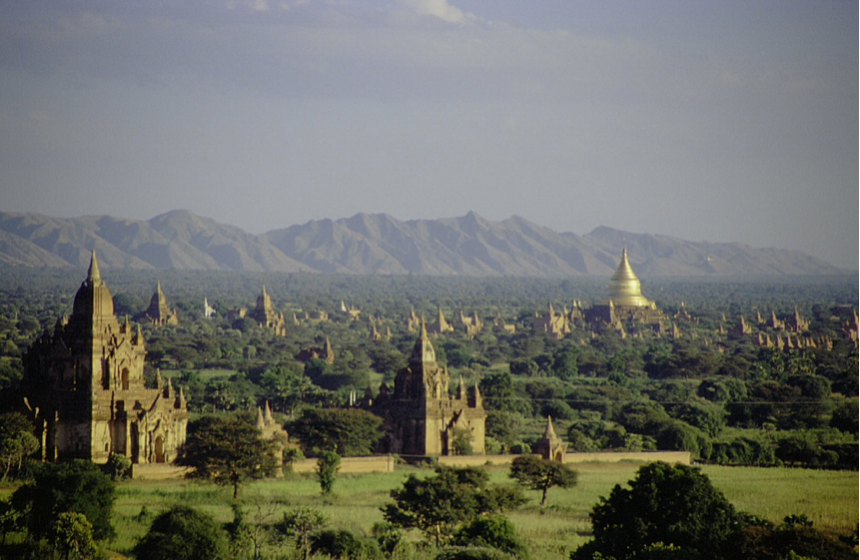 This place is now known as Bagan. Its ancient name was actually Pagan! What this area represents as a spiritual source is often what is brought to mind by the word pagan!
It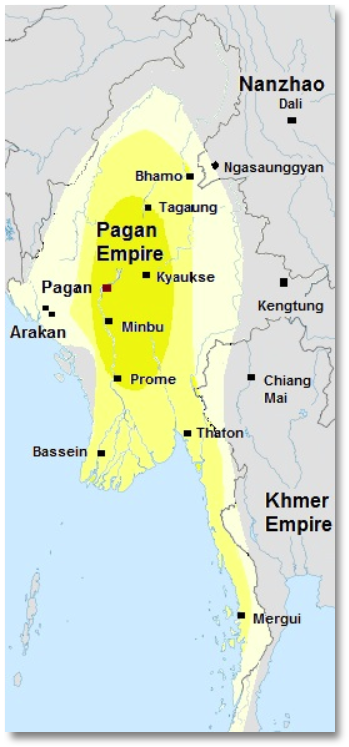 is astonishing that during these short 300 years of primitive history 10,000 of these buildings with their elaborate Buddhist architecture were constructed in this area alone! They obviously viewed construction as a form of worship! And all this was built without modern equipment or power tools! What a commitment the kingdom of darkness had to this place!
The 6% of the Myanmar population that is Christian tend to avoid this area as much as possible. Many feel that the darkness is so thick that light cannot penetrate. I choose to believe differently! I believe that the blood of Jesus is as powerful in pagan Bagan as it was at the foot of the cross!
In fact I am taking a trip to Myanmar and I am leaving today that is why it is urgent for you to respond today with your prayers and your financial support. A country with one of the lowest percentages of Christianity of any place on planet earth cannot be ignored in light of The Great Commission!
I feel that this is a pivotal time in the long history of this nation. Just as when the former Soviet Union opened to the rest of the world, and also to the gospel, the church had to immediately respond! That is how I feel about this moment in the history of Burma/Myanmar.
The military government of Myanmar is cracking open it's doors! The nation is becoming increasingly accessible. Multinational corporations are pouring in. So should Christian ministries! No one knows if these doors will remain open, or for how long. All I know is that for me, as an Ambassador for the Kingdom of Heaven, "a great door for effective work has opened for me". That echoes what the Apostle Paul said in 1 Corinthians 16:9.
I am praying and planning much. But there seems to never be enough time to properly prepare for these rapid changes as the Kingdom of Burma's gates swing wide for the Kingdom of Heaven. I have had time just to gather what finances we can and quickly create a viable plan to plant Emanuel's flag of victory on one more shore. This will the 71st country that I have preached in. I am asking that you join me in walking through this door. I know that you want to have some seed in Burma's soil. Just think about the harvest of heaven that your gift will produce!
This shortness of time and total unpredictability of the government is what has prompted me to send this note to you. I simply did not have enough time to properly plan in our ministry budget to for this rapidly opening opportunity for the gospel. This is really a step of faith for me to take on at this short of notice. That is why I am asking you who I know share a similar passion to help me. I have already asked some pastor friends of mine and they have generously stepped up to the plate. I believe that many of you who are also my friends will want to help. In essence, help me to help them!
I am asking you walk with me through this door by:
promising to pray for me, my family, my team. Do you think that the ruling principalities and powers of any region named Pagan, dotted with thousands of idolatry darkened temples, built over many millennia, will stand idly by when the light of the gospel begins to shine brightly. I don't either! That is why I desperately need your prayer covering! Today! Pray that God will begin to soften the hearts of men and women, church leaders, and government leaders for this season. To date there has been limited cooperation between church groups. I am believing for this to change.
consider actively participating in what God is doing in Burma. I am praying that the lord of the harvest sends out laborers fit for the field. Not every laborer is a fit for every field! But this just might be your fit! In the future Burma will need teams, churches, and pastors, who will partner with the Burmese churches to do the work of the ministry in the nation. Churches plants, creating off-site campuses, training leaders, or what ever ingenious idea the Holy Spirit might reveal to you. We can do this… together!
assisting me financially for this initial trip into Burma. I am following what I know is fresh divine direction for this season in my life. By your generous help the Kingdom of Heaven can expand in Burma. This is a MIRACULOUS time in Myanmar! The military government is showing unprecedented openness! The church must match this openness with generosity! Your dollars now will make a huge difference later!
Let me explain why now is so important. Virtually all public meeting places have to be rented or obtained from the government. They have begun denying permits to the buddhist groups to rent meeting space or to have public meetings because they fear the crowds being whipped into a frenzy of anger and protest against the government. The Burmese government has traditionally stood strong against Islamic groups and not often allowed them to rent, lease or retain a government meeting hall because of their fear of violence. But they noticed it was not the Christians becoming violent, or overly involved in politics. This unique situation has placed Christianity in a position for the Burmese government to increasingly allow Christians to begin using public meeting halls with governmental blessing. This is incredible!
This bureaucratic centrally controlled government structure can also be problematic. The permitting process is laborious and often mercurial. We have had to change our dates twice in the last 6 weeks! With lead time being cut both times. The venue has been changed by them twice also! The second time to insist we needed a bigger building because they felt we would have more people attending! Obviously with more cost! But it is interesting for a secular government to have more faith in the size of the meetings than what we had in planning for the meetings! Praise God!
I am really excited about this trip! And a bit overwhelmed by these swiftly changing challenges! It is stretching my faith! But I am committed! Will you help?
Please let me hear from you!
Still Chasing,
Tommy
(I pray that I did not overwhelm you with all this information. I hope you have heard my heartbeat. I know you hear His voice. Thank you for being my friend!)