Hello Friends,
In our last letter, I introduced myself to all of you who did not know much about me. Your response was overwhelming. I appreciate your kind comments and wonderful support.
While Tommy is the one who writes the books, I am the one who writes the music. I have been singing since the age of two years old. My father was an ordained minister. He and my mother started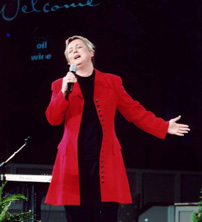 churches all over the United States. From a very young age through my teen years, I was most often their special singer for church services. I can remember very few services in which I did not embrace a microphone and sing out God's praises. Then, when I married Tommy, whether we were pastoring or traveling and holding crusades and special services, I became the special singer in services around the globe.
Over the years I have fashioned myself into whatever was needed of me. Although I am the Chief Financial Officer for the GodChasers ministry, I also serve as the scheduling director. In addition, I find myself traveling more and more to minister in churches and at conferences.
As the GodChasers Ministry CFO, I see virtually every donation given to GodChasers. I pray for you every time I see your donations. I want you to know how much we appreciate your faithfulness to give sacrificially to this ministry as it impacts lives worldwide!
Keep up the chase!



Jeannie Tenney